Why transparency and strong vision are crucial to run a company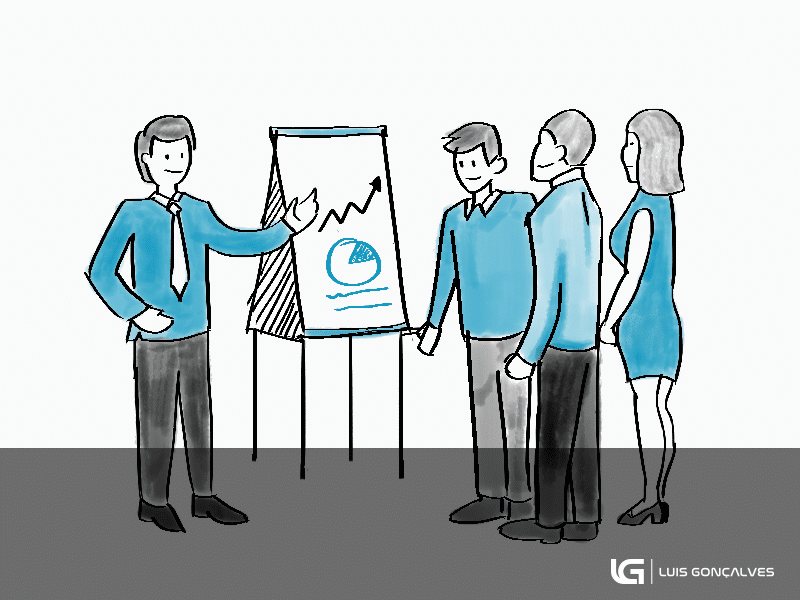 When I started blogging 7 years ago, my main idea was to share my experience with the agile community. I wanted to share my learnings so others would not waste time doing the same mistakes.
After several years, my target audience changed and nowadays I write mainly for executives and entrepreneurs, but the idea is still the same: educating people and sharing my experience and learning so they do not do the same mistakes I did.
This week I want to share something with all of you. For past couple of years I have performed several leadership roles but everything changes when you own your company. I think the responsibility is different and the way how you manage your own employees is a bit different than when you are employed and you have a team of Scrum Masters.
I have always preached to my customers and managers how important it is to have a policy of a salary transparency, actually not only salary but a complete monetary transparency.
I also challenge my customers about the vision. Most of them do not understand why I am so pushy about this topic, but hopefully at the end of this post you will better understand why.
Now I want to share a story with you . Some of you know that I am in a process of hiring the first employee for evolution4all. This person is a brilliant lady that I put a lot of hope for. She hasn´t started working yet, but we already discuss the conferences and trainings she wants to attend. And this is when my story begins…
Often I explain to many people and to her as well what vision do I have for my company, what is our customer target audience and what is our market.
Our soon to be colleague will soon become a CST  and she must attend several Scrum gatherings in order to reach that milestone. So we discussed a possibility for her to attend the Scrum gathering in South Africa.
To be very honest, I am sure if I said no, she would be upset and we would not start the relationship in the best possible way, but instead, I asked: "Can you tell me the vision of our company, what is our target customer and market?"
Because I constantly communicate the vision that I have for the company, it was very easy for her to answer my questions and understand that a Scrum gathering in South Africa did not have anything to do with what evolution4all aspires for.
Afterwards, I was very transparent with her and told her exactly how much money our customer will pay for her services and how much money we would loose if she went to South Africa. I explained the cost that evolution4all have with her, including her salary, social security, health care and all the costs associated of having her as employee.
It was very easy for her to understand that attending a Scrum gathering in South Africa would cost almost the entire salary.
I asked her what she would do if she were me, and she agreed that this would not be a wise investment for the company. Instead, she would look for options that would be aligned with evolution4all vision.
Being transparent to you, our target audience is Executive leaders in Europe, our vision is to create a better world by improving one company at a time and we do that by deploying our Organisational Mastery product at medium sized companies.
This being said, a Scrum gathering will never be evolution4all main focus but everyone knows that supporting a colleague that wants to become a CST is a great asset for any business. What we will do is to find events that will enable her become a CST but at the same time we relate it to our vision.
Why did I share this story? Because I believe if I wasn´t completely transparent with my employee about our vision, strategy and cost structure, I would not be able to have such an open and productive discussion.
I really believe that employees care with companies, but I also believe that 99% of employees do not have a clue about the current strategy of their company. And most probably they do not have any idea how their work contributes to the revenue and how much they cost to an organisation.
Having a very strong vision together with a cost transparency policy is the key to get employees making the right decisions for your company.
I really hope you enjoyed this personal story.
ORGANISATIONAL MASTERY SCORECARD
We have developed a free assessment in the form of a Scorecard to help you establish which areas of business you need to focus on to achieve your particular Organisational Mastery.
Take The Test
If you liked this article, feel free to visit my company Products and Services pages.
We provide Team Coaching, Agile Training, and Agile Consulting, OKR Training, OKR Consulting, Innovation Training and Innovation Consulting.
With my team, I built 5 main products: High Performing Teams, Scrum Team Coach, Scrum Master Mentoring, Organisational Mastery and the External Business Accelerator.