A Great Technique to build agreement within your team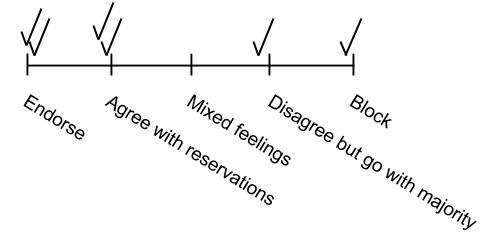 HOW TO BUILD AGREEMENT WITHIN YOUR TEAM
Hi guys, in this post I want to demonstrate how to build agreement within your team, a small exercise that I learned from the book "Facilitator's Guide to Participatory Decision-Making" by Sam Kaner.
As an agile coach, I spend a lot of time introducing new ideas to teams, but a question is: " How can I figure out if these ideas will have enough buy-in from teams to be implemented?" The exercise that I´m showing you today will solve this problem; the practice is called "Gradient of Agreement".
The exercise is easy. Use a flip chart, draw different five levels of agreement: "Endorse", "Agree with reservations", "Mixed feelings", "Disagree but go with the majority" and "Block". Ask team members to put a check mark on the level they feel comfortable, as presented below in the example.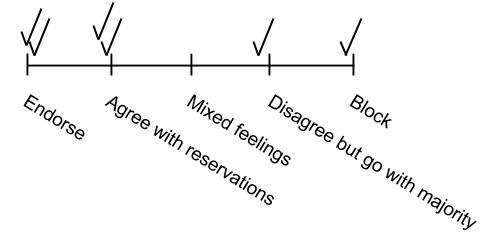 Using this kind of tool allows everyone to reveal its opinion and level of commitment to the proposed approach. Sometimes it is not possible to get buy-in from the team. Therefore I propose that you start with small steps, instead of having an ambitious final solution. Why not break the solution in small pieces, for example, instead of proposing to the team that automated tests should run after every check in, split this ambitious goal into smaller ones:
Automated tests should run automatically after every check-in
Automated tests should run manually after every check-in
Automated tests should run automatically every night
Automated tests should run manually every night
And use the same technique for each different goal. After that chose the one that has the right balance between ambition and agreement from the team.
This was the exercise that I wanted to bring up today. If you are looking for more ideas on how to build High Performing teams check the blogs below:
How To RampUp A Great Agile Team
Working with Me Or Evolution4all
I have developed the "Organisational Mastery" product. The aim of this product is to create a coalition that drives change and internal innovation alongside shared knowledge throughout the organisation. It's extremely suitable for companies that want drastically improve the alignment between executive leadership and delivery teams.
ORGANISATIONAL MASTERY SCORECARD
We have developed a free assessment in the form of a Scorecard to help you establish which areas of business you need to focus on to achieve your particular Organisational Mastery.
Take The Test